With numerous bills still being considered by Congress, people are increasingly aware of the need to explore options for taxes, charitable giving, estate planning and inheritances. Tax sensitive strategies for the near future are on everyone's mind right now. These are the strategies to be aware of.
Taxes Strategy #1 Offset Capital Gains
Capital gains are the profits made from selling an asset which has appreciated in value since it was first acquired. These gains are taxed, although the tax rates on capital gains are lower than ordinary income taxes if the asset is owned for more than a year. Losses on assets reduce tax liability.
This is why investors "harvest" their tax losses, to offset gains. The goal is to sell the depreciated asset and at the same time, to sell an appreciated asset.
Taxes Strategy #2 Upstream Estate Planning
The estate tax exemption won't always be so high though. The runup in housing prices may mean capital gains taxes become a serious issue for many people. There are solutions to be found in estate planning, including one known as an "Upstream Power of Appointment" Trust.
This strategy isn't for everyone. It requires a completely trustworthy, elderly and less wealthy relative, such as a parent, aunt, or uncle, to serve as an additional trust beneficiary.
How Upstream Power of Appointment Trusts Work
Basis: This is the amount by which a price is reduced to determine the taxable gain. This is often the historical cost of an asset, which may be adjusted for depreciation or other items. Estate planning attorneys are familiar with these terms.
Step-up (in-basis): If you bought a house for $100,000 and sold it for $400,000, your taxable gain would be $300,000. However, if the house had belonged to your father and was being sold to distribute assets between you and your siblings, the basis (cost) would be increased to the fair market value at the date of your father's passing. This increase is known as the "step-up in basis" and here's the benefit: there would be no capital gain on the sale and no taxes owed.
Lifetime estate tax exemption: This is currently at $12.06 million per person or $24.12 for married couples. This is the amount of assets which can be passed to children or others free of any federal estate tax. However, the number will take a deep dive on January 1, 2026, when it reverts back to just under $6 million, adjusted for inflation. Plan for the change now, because 2026 will be here before you know it!
Upstream planning involves transferring certain appreciated assets to older or other family members with shorter life expectancies. Since the person is expected to die sooner, the basis step-up is triggered sooner. When the named person dies, you obtain a basis step-up on the asset, saving income taxes on depreciation and saving capital gains on a future sale of the property.
Most Americans aren't worried about paying estate taxes now, but no one wants to pay too much in income taxes or capital gains taxes.
To make this happen, your estate planning attorney will need to give an elderly person (let's say Aunt Rose) the general power of appointment over the asset. Section 2041 of the Internal Revenue Code says you may give your Aunt Rose a power to appoint the asset to her estate, creditors, or the creditors of her estate. Providing the power will include the value of the property in her estate, not yours, ensuring the basis step-up and income tax savings.
Don't do this lightly, as a general power of appointment also gives Aunt Rose ownership and the right to give the property to herself or anyone she wishes. Will you be able to protect yourself if Aunt Rose goes rogue?
While the IRC rule doesn't require Aunt Rose to get your permission to control or change distribution of the property, a trust can be crafted with a provision to effectuate the desired result. The IRC doesn't require Aunt Rose to know about this provision. This is why the best person for this role is someone who you know and trust without question and who understands your wishes and the desired outcome.
Proper planning with an experienced estate planning attorney is a must for this kind of transaction. All the provisions need to be right: the beneficiary need not survive for any stated period of time, you should not lose access to the assets receiving the basis increase, you want a formula clause to prevent a basis step down if the property or asset values fall and you want to be sure that assets are not exposed to creditor claims or any other liabilities of the person holding this broad power.
Taxes Strategy #3 Consider Roth IRA Conversions
People used to assume they would be in a lower tax bracket upon retirement, providing an advantage for taking money from a traditional IRA or other retirement accounts. Income taxes are due on the withdrawals for traditional IRAs. However, if you retire and receive Social Security, pension income, dividends and interest payments, you may find yourself in the enviable position of having a similar income to when you were working. Good for the income, bad for the tax bite.
How to Avoid the Higher Tax Bracket
Converting an IRA into a Roth IRA is increasingly popular for people in this situation. Taxes must be paid, but they are paid when the funds are moved into a Roth IRA. Once in the Roth IRA account, the converted funds grow tax free and there are no further taxes on withdrawals after the IRA has been open for five years.
You must be at least 59½ to do the conversion, and you do not have to do it all at once. However, in many cases, this makes the most sense.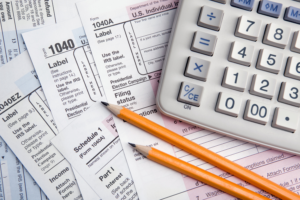 Avoid Higher Tax Brackets Through Giving
Charitable giving has always been a good tax strategy. In the past, people would simply write a check to the organization they wished to support. Today, there are many different ways to support nonprofits, allowing for better tax advantages.
One of the most popular ways to give today is a DAF—Donor Advised Fund. These are third-party funds created for supporting charity. They work in a few different ways. Let's say you have sold a business or inherited money and have a significant tax bill coming.
By contributing funds to a DAF, you will get a tax break when you put the funds into a DAF. The DAF can hold the funds—they do not have to be contributed to charity, but as long as they are in the DAF account, you receive the tax benefit.
Another way to give to charity is through your IRA's Required Minimum Distribution (RMD) by giving the minimum amount you are required to take from your IRA every year to the charity. Otherwise, your RMD is taxable as income. If you make a charitable donation using the RMD, you get the deduction, and the nonprofit gets a donation.
Giving while living is growing in popularity, as parents and grandparents can have pleasure of watching loved ones benefit from the impact of a gift. A person can give up to $16,000 to any other person every year, with no taxes due on the gift. The money is then out of the estate and the recipient receives the full amount of the gift.
Talk With an Attorney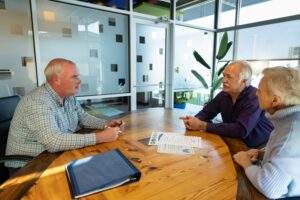 All of these strategies should be reviewed with your estate planning attorney with an eye to your overall estate plan. This ensures they work seamlessly to achieve your overall goals. Don't have an estate planning attorney yet?
Get started today with Ozarks Legacy Law! Our estate planning attorneys been servicing Southwest MO for a combined 50 years. We have the experience and expertise to create a Complete Estate Plan that will leave you feeling confident of the future. We also help our clients with tax questions.
Give us a call at 417-233-5858 or book a call for later.